What do you get if you cross a bird and snake? If you said "Basilisk" then you're either an ardent fan of Harry Potter or perhaps a resident of Basel.
Sitting at the confluence of Italy, France, Austria and Germany, Switzerland is a country straddler and Basel is "the Switzerland" of Switzerland, sitting a stone's throw across the Rhine from Germany and France.
The city of Basel have adopted the Basilisk, a creature said to hatch when a cockerel sits on the egg of a snake. The fearsome little thing can kill you with a single glance and can only be killed in turn by a weasel, a cockerel's crow or, like Medusa, its own reflection.
The city has a history of taking the Basilisk very seriously. In 1474, a cockerel was accused of having laid an egg and sentenced to death. The citizens of Basel were so afraid the egg would hatch into a basilisk, they cast it into a fire. The cockerel was beheaded following a proper trial, so at least he had his day in court, I suppose.
There are statues of Basilisks everywhere in the city, in fountains, on bridges and in the names of all kinds of businesses. Basel is so monster-mad they've even named the most prominent building in their skyline, a red sandstone cathedral, The Münster. Maybe there's something in the water, you may ask. Well, there definitely was at one point. In 1986, a catastrophic fire at a chemicals factory here sent tons of toxic chemicals into the river Rhine, turning it blood red.
I'm working on a theory about why folklore in Switzerland. My first theory is there because the regions are disparate, there's no common language or climate – the Swiss cling to shared cultural references like William Tell to give them a shared national identity. My second theory is that the Swiss people are a bit nuts. Nowhere is this more evident than Basel. Take, for example, Albert Hofmann, the man who accidentally took a monumental dose of LSD, the first person to do so. After taking 4 x times what would be considered normal, Hofmann went on a trippy bike ride through the Basel.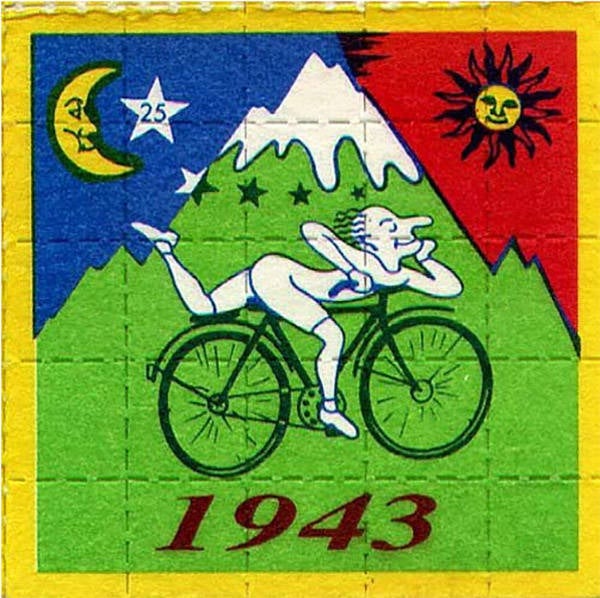 "Kaleidoscopic, fantastic images surged in on me" he later reported, "alternating, variegated, opening and then closing themselves in circles and spirals, exploding in colored fountains…. Every sound generated a vividly changing image, with its own consistent form and color."
Hofmann died when he was 102 years old, so it can't have done him much harm.
Then there's the famous Fasnacht festival, held every year. A simple google search will show you what an LSD trip can look like. In fact, Hofmann's description above could just as easily apply to the zany festivities of Fasnacht. Even the museums in Basel are bonkers. Don't let the blandly named Tinguely Museum fool you! The exhibits look like rejects from the laboratory of a mad inventor.
We sat down dinner that night and hostel social area was surprisingly busy. I sat down on a picnic bench table and waited while Michael was out finding us some dinner. It was then that I fell in love. Maybe I was especially susceptible having spent so long and so close with masculine company, maybe my brain chemistry was askew, but a girl walked into the kitchen and I knew, at that moment, she would be my wife. Her eyes were dark, almost black, really shinny. Her hair was dark, almost black really shinny. She walked in and sat next to me.
Keep it together, Rich, I thought, trying to calm my beating heart. She might not have realized yet that she is to be your wife and your children will grow up at least bilingual.
I was trying to think of something funny yet nonchalant. How will I explain this to Michael? When he gets back and I announce I'm engaged and that the Rich MIke Hitchhike ends for me here, on the eve of day 97.
Just then I felt a tap on my shoulder. Alarms bells started going off in my head. Mystery girl has engaged contact. This is not a drill, repeat this is not a drill.
I turned to her daring to meet her gaze.
"Can I ask you a question?" she breathed.
Will you marry me? Have my babies? Check to see if my tongue works ok?
"Y-y-yes?" I stammered, confidently I might add.
"Could you swap seats with my boyfriend. He's sitting over there"
Of course. I looked up and I'll be damned if I didn't fall in love twice in 5 minutes. The adonis sitting opposite, sporting a jawline as square as the Sasso Corbaro Castle, flashed me a Hollywood smile and twinkle in his eyes that could've taken everything I own, never mind my seat.
"Sure"
Michael came back we had dinner.
"Rich, did you see that beautiful girl? She must be model"
"Yeah, not my type"
Later on that night, I did manage to get talking to the girl. Her name was Isabelle and she did not agree to be my wife; firstly, because I didn't ask her; and, secondly, and far importantly, she was so far out of my league that if my league had exploded, hers wouldn't have even seen the flash. Some good did come out of it though. After I explained to Isabelle about the Rich Mike Hitchhike, she told us to speak with a guy called Uwe, whom she knew was driving to Germany in the morning.
I sent Micheal in to launch a charm offensive on Uwe.
"So what brings you to Basel," said Michael.
"I'm in Basel attending a jodo seminar. Do you know jodo?" replied Uwe, a rather intense-looking young man with a tendency of alternating between blinking too much or not at all. He had a beard on his chin of 12 hairs (I counted them).
"Judo? Yes, it's a martial art isn't it?"
"No, not 'judo'. 'Jodo'"
"Oh, I know! 'Ludo' I used to play it as a kid. It's a board game, right? They have Ludo seminars?"
"Love Ludo," I chimed in, shamelessly trying to curry favour.
"No. Not Ludo. Listen: 'Jo-do'. It's a martial art with sticks"
"Oh right," said Michael, slightly disappointed Uwe wasn't a Ludo enthusiast.
Uwe was driving to his hometown, Offenburg, in Germany, only 30 km from our next target, Strasbourg, in France.
A feather boa, by the way, is the other acceptable answer for what you get when you cross a chicken with a snake.