Luxembourg had a gothic, almost sinister feel as we walked through the dark and drizzly afternoon. The black turrets in the skyline, oblivious to the winter rain, watch over the city-state as if it were still medieval times.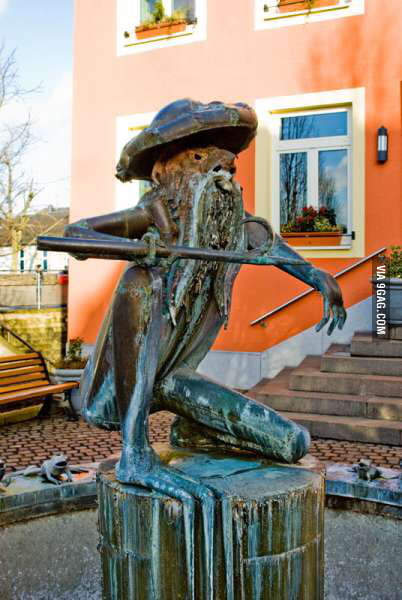 Judging by the stories the Luxembourgers tell their children here, I don't think it was just tonight that Luxembourg was dark. The Luxembourger youth are terrified by tales of the Kropemann with his long hook which he uses to drag unsuspecting young victims into the network of watery tunnels below the city. When I heard the Kropemann is a devious man with tattered clothes, a shaggy beard and underwater plants covering his skin, I advised Michael to smarten up his look, lest we scare the local youngsters.
Then there's Peter Onrou, a recumbent, rather macabre statue in a small grotto on Côte d'Eich. This is where Luxembourgers go when they want to seek revenge. They take a candle, which they pierce with needles, and as the candle burns, the needles heat up and the object of vengeance will feel stinging pain and emotional restlessness. Dark!
We walked over some bridges and into the city centre where the joviality of the Christmas market gave us some welcome respite from the gloomy outskirts. We passed the market stalls selling festive food and merchandise, following the map to our hostel. The sweet smell of warm doughnuts and the sounds of Christmas gave way again to the cold air and gradual silence. A chorus of church bells boomed through the night. We followed the narrow streets towards our hostel to a bridge and then down some stairs. It looked like to me that our hostel was below the city, rather than in it.
"Were there no hostels in the city?" Michael asked.
"They're out of our budget," I said, feeling slightly nervous about our proximity to the network of watery tunnels.
We walked into the hostel.
"So what's the dominant language in Luxembourg?" Michael asked the pretty receptionist, Natalie, once we'd checked in
"It's Luxembourgish" she replied,
"Oh right. So, if it's Luxembourgish, does that mean it's French or German with a hint of Luxembourg?"
"No. Luxembourgish a unique language,"
"How do you say 'thank you'?"
"Merci"
"Oh."
He picked up a menu card"
"What's for dinner tonight, Natalie?"
"Bouneschlupp,"
"Bless you"
"Huh? No, Bouneschlupp is a Luxembourgish dish with green bean, potato and bacon," she said, before screwing up her face. "I don't like it"
"Why not?" he asked, "Is it a bit bland and stodgy?"
"Bland? Stodgy"
"Does it lack flavour?"
"Oh, err, I don't know, I just don't like it"
That night, we sat down to our Bouneschlupp. Natalie was sat down at the other side of the cafeteria, playing with her brunette ringlets.
"Hey, Natalie!" Michael called across the crowded room, "This food is not as terrible as you said it was!"
She laughed but looked slightly embarrassed.
"It's not bland and stodgy at all!"
Her eyes briefly flickered behind us and we turned around to see the Chef was replenishing the buffet. He blustered his way back into the kitchen. I didn't see any Basilisk looks of death in Basel but I think Michael may have received one here. Michael turned back around with an exaggerated grimace on his face and pinched the skin on his neck as if it were tight on his throat. Everyone in the whole cafeteria burst into laughter. One guy was clapping.
Not much more happened that night; though, curiously, Michael did wake up complaining of stinging pain and emotional restlessness.